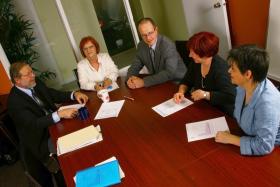 Family mediation can help to resolve the essential and personal conflicts of our lives. Families can represent the greatest source of experience, history, heritage, and happiness. However, at the same time, families can also be a significant source of conflict for many people. It can be a sad but true story of many of our lives. Our family is inherently intertwined with our history, our past relationships, our present circumstances and, consciously or unconsciously, our future lives.
Whether these interactions involve our parents, siblings, spouse, partner or  children, families can be a powerful source of strength allowing us to grow together and flourish. They can also be a draining source of continued conflict that can cause us to take sides constantly, assess blame, and  divide us. Either way, Alternative Law's family mediators must take great care to help to plan out the future, with and sometimes without a family's complete cooperation, so that everyone can thrive and advance their lives.
Family mediation and conflict resolution require a historical understanding to serve as the foundation for step-by-step problem and issue identification. This understanding will lead to systematic and integrated solutions, and a strategic working long-term family plan in order to accomplish your goals successfully and fairly.
ALTERNATIVE LAW's mediation programs allow you to participate actively in all of these crucial decisions that impact the lives of you and your family.
Sibling Conflicts
Elder Care
Relatives Disputes
Reconciliation Issues
Parent and Child Conflicts
Parenting Plans
Custody Plans
Visitation Plans
Financial Statements
IRA's/Pensions
Bank Accounts
Investment Accounts
State And Federal Taxes
Social Security
Wills and Trusts
Probate and Estates
Alimony/Child Support
Paternity Actions
Adoption Agreements
Parent-Child Disputes
Restraining Orders
Education Plans
Housing Disputes
Divorce Agreements
Separation Agreements
Partner Disputes
Post Divorce Issues
Pre- Litigation Issues
Post Litigation Issues
We all recognize that all people, both men and women, can have different skills in this area. Proper information, disclosure, options and understanding by all parties are key elements necessary in planning for a well-considered separation or divorce that will be legitimate, legal, and stand up to the test of time.